Training Programme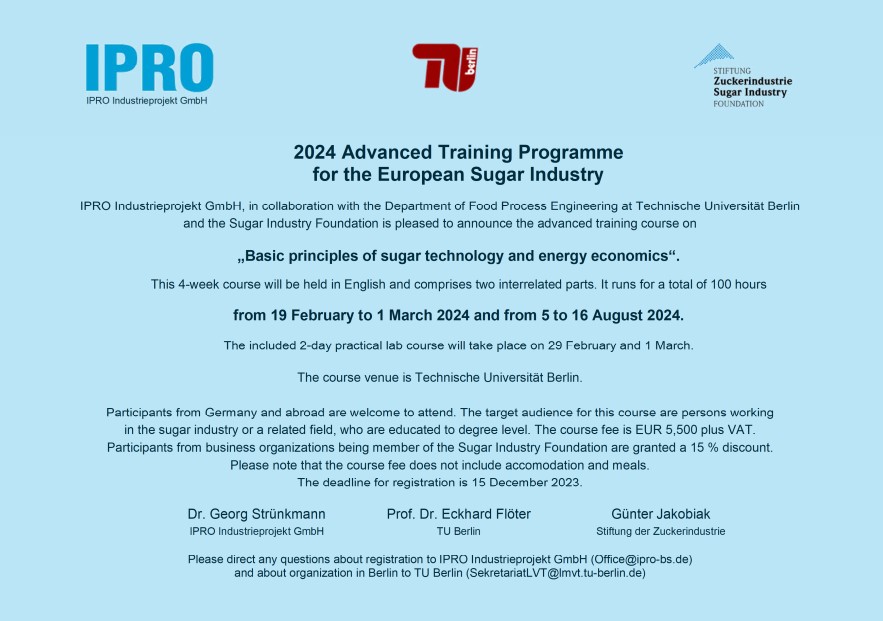 2 November, 2023
2024 Advanced Training Programme for the European Sugar Industry
IPRO Industrieprojekt GmbH, in collaboration with the Department of Food Process Engineering at Technische Universität Berlin and the Sugar Industry Foundation is pleased to announce the advanced training course on "Basic principles of sugar technology and energy economics".

This 4-week course will be held in English and comprises two interrelated parts. It runs for a total of 100 hours from 19 February to 1 March 2024 and from 5 to 16 August 2024. The included 2-day practical lab course will take place on 29 February and 1 March. The course venue is Technische Universität Berlin.

Participants from Germany and abroad are welcome to attend. The target audience for this course are persons working in the sugar industry or a related field, who are educated to degree level. The course fee is EUR 5,500 plus VAT. Participants from business organizations being member of the Sugar Industry Foundation are granted a 15 % discount. Please note that the course fee does not include accomodation and meals.
The deadline for registration is 15 December 2023.
Please direct any questions about registration to IPRO Industrieprojekt GmbH (Office@ipro-bs.de) and about organization in Berlin to TU Berlin (SekretariatLVT@lmvt.tu-berlin.de).